2014 - 2016
The Blue Print (2016)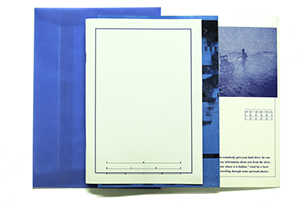 artist publication
"The Blue Print is an artist's book and an introduction to themes of media art by capturing a techno-poetic and aesthetic syntax of unintentional archive. Its context stems from the prevalence of the digital technologies that are provoking us to shed data like we shed our skin, asking questions around how we store, delete, retrieve and share our personal histories as an ever-present community." -- Liz Allan

-------------
* The Blue Print is supported by
Gaudenz B. Ruf (Award for New Bulgarian Art)
* Conversation Piece, artist talk & presentation, Cosmos, Sofia, bg
* D Days (Open Design), Zagreb, cro
Cold Storage (2015)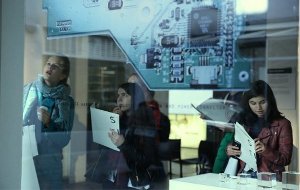 vinyls, glass cubes, circuit boards, light table
While stored digital data might seem ephemeral or intangible in fact it has its physical presence into the real world. Cold storage investigates the architectural dimensions of our storage devices and how they are translated into the physical world. The work proposes a poetic overview of the material quality of memory asking what is the future of digital storage - " a glass cold memory which lasts forever"... or imperfect storage technology that can impart.

-------------
* Cold Storage installation is supported by
CBK (Centre for Visual Arts Rotterdam)
* What remains, Strategies of saving and deleting,
esc medien kunst labor
Graz, au part of
Steirischerherbst
Estimated Time to Recovery (2015)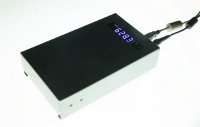 Raspberry pi, SATA/IDE enclosure box, hard drive, steal box, timer
Estimated Time To Recovery is an automatized system, which recovers files from hard drives without the consent or the knowledge of the previous owners, who presume their content has been forever deleted. This metal box contains a mini computer which recovers and deletes data from a hard drive. The displayed numbers show the estimated time to recovery until the process is completed. When the procedure is finished the machine starts the reversed process of erasing the recovered data. This feedback loop attempts to display processes which often remain hidden and run on the background of our machines.

-------------
* Estimated Time To Recove is supported by
CBK (Centre for Visual Arts Rotterdam)
* What remains, Strategies of saving and deleting,
esc medien kunst labor
Graz, au part of
Steirischerherbst
JODI@STDLJK The Titles (2015)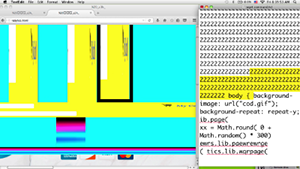 video, duration:1'16''
Together with six other artists and researchers I was invited to take part in the project "This folder Contains", a diverse set of documentations produced for JODI's performance "This Page Contains..." on 1st of October, 2016 at Stedelijk Museum. For this purpose I created JODKI@STDLJK The Titles – an immersive video teaser combining more than 1475 images of what might be my subjective interpretation of JODI's performance. → video
-------------
* This project was initiated by Annet Dekker in association with
LIMA
as part of "Capturing a Moment:
Where net art and performance meet" and was supported by Stedelijk Museum.
DEL?No, wait!REW (2014)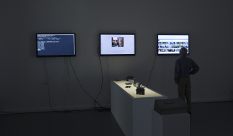 interactive installation, Python GUI, TestDisk, Arduino, hard drives, screens, steal controller, light table
DEL?No, wait!REW is automatized system, which recovers files from hard drives without the consent or the knowledge of the previous owners, who presume their content has been forever deleted. DEL?No, wait!REW asks is it possible to delete information in the digital age? Whether our storage devices are locally present (hard drives) or dislocated (the cloud), can we ever be certain our data has been permanently deleted? In an ongoing conversation around the impossibility of erasing digital traces, what role do we take? Are we plunderers, interpreters or mediators? The installation aims to prompt the viewers with a decision or ethical choice whether to delete a recovered file or save it by publishing it online. → video
-------------
*
free_art_-_source
, Galerija Galženica, Zagreb, cro
*
Art Meets Radical Openness festival (AMRO)
Kunstraum gallery, Linz, au
* What remains, Strategies of saving and deleting,
esc (medien kunst labor)
, Graz, au
* PIKSEL Festival,
Lydgallerit, Bergen, no
* New Horizon Festival,
Het Onderwijscentrum Erasmus MC, Rotterdam, nl
* Unlinked (Dislocations, Disappearances & Deprecations),
- Graduation show of Piet Zwart Institute, MMDC, TENT, Rotterdam, nl
Bibliotecha (2012 - on-going)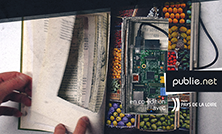 offline digital library, Raspberry Pi, Recoil, Calibre, book, login instructions

---------------------------------------------------------
| current collaborations:
 Roelof Roscam Abbing, André Castro
 Yoana Buzova
 Lasse van den Bosch Christensen, 
 Lucia Dossin
 Michaela Lakova 
---------------------------------------------------------

Bibliotecha is a framework to facilitate the local distribution of digital publications within a small community. It relies on a microcomputer running open-source software to serve books over a local wifi hotspot. Using the browser to connect to the library one can retrieve or donate texts. Bibliotecha proposes an alternative model of distribution of digital texts that allows specific communities to form and share their own collections. Read more on the website of the project → http://bibliotecha.info/
-------------
*
The Autonomous Fabric Symposium
, WdKA/v2_, Rotterdam, nl
*
Radical Networks conference
, NYU MAGNET, New York, us
* Workspace for the New World, Bureau Europa, Het Niuewe Instituut, Maastricht, nl
*
Art Meets Radical Openness festival (AMRO)
, Linz, au
*
Are you being served VJ14,
Constant, Brussels, be
* Free book for every soul, Impakt festival, Utrecht, nl
Generative koplet series (2013)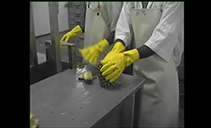 video loops, duraions: 1'55'' 2'13'' & 2'12''
Generative koplets #1,#2 and 3 are series of videos part of an extended research using fragments of retrieved data from a collection of hard drives disks. Generative_koplet#1 consists of an array of abstract visuals of various maps, cities and coordinates contrasted by their abstract black and white quality. Generative_koplet#2 depicts a production line of workers in a factory disassembling pineapples in Ghana, emotionless in their everyday routine and presented in a semi-documentary style. Generative_koplet#3 serves as a behind-the-scenes view of the recovery process, where I positioned myself at the center, placing the hard drive into an ATA hard drive case and running the recovery software documenting every step of my own. The soundtrack of the videos is a slightly distorted sound from a powered up and spinning hard drive recorded from the interior of the drive, which draws its presence into the physical world.
videos → Generative koplet#1 Generative koplet#2 Generative koplet#3
-------------
* Traces part of MuseumNacht'14, SaraTimTrust, Rotterdam, nl
* USB-Shuffle show, Institut für Alles Mögliche, Transmediale, Berlin, de
VGA_hak (2013)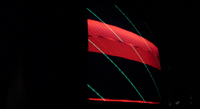 video documentation, modified VGA adapter, Arduino, CRT TV, MAX/MSP
VGA_hakis a customized VGA adapter / controller which scans the digital signal systematically back and forth across the screen, drawing line by line, "flickering" the picture over and over again almost as invisible electronic paintbrush. The adapter takes as input digital signal (RGB) and via arduino converts the signal into hi frequency lines displayed on CRT TV. A Max/MSP patch is used to communicate with the Arduino through the Serial port, syncing the rgb signal to the frequencies of the played audio file. → video
-------------
* Glitch Moment/ums - an online exhibition curated by Rosa Menkman & Furtherfield. Furtherfield Gallery, London, UK
2012 - 2013
Creativity Profiling Test Cq7 (2013)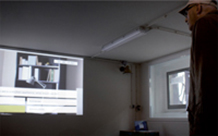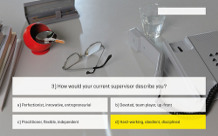 interactive installation, Processing, Kinect, print

-------------------------------------------------
| in collaboration with Nicole Hametner 	 
-------------------------------------------------
   				
Cq7 Creativity Profiling Test is an interactive installation, which allows users to test their creativity through a series of ubiquitous questions and answers by standing in different zones on the floor. Then the user is given a printed badge with final score. The content of the questions evolves from the most common job interview questions to more discomfort ones, concerning supervision, deadline, pressure, work-life balance and privacy. The final rating is not based on the actual answers instead it is randomly generated. However most users see the test as a serious assessment of their own creativity. → docs
-------------
*
Startup CAMP
- a group show & presentation, WORM, Rotterdam, nl
Urban_Planting (2012)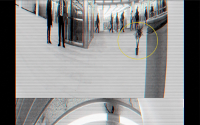 public intervention, photographs&video documentation

Urban planting Urban planting is an attempt to explore and interact with the rhythm in the city of Rotterdam. It is my first personal observation of how and to what extend I can provoke a reaction to a small action: a type of social intervention in public space. I placed a plant - a common interior feature but in this case out of its context - at the Rotterdam metro station. I intentionally positioned it in the middle of the sidewalk, on the way of the passersby where it frequently became an object of illumination by numerous fluorescent lights and CCTV cameras. I found myself and my non-depict form of intervention in the spotlight, overexposed, monitored and investigated. Thereby neither the absurdity of the object by itself, nor the audience's bare reaction were central; instead it was the authority's, in particular the security's response that became the main event of the action.
-------------
*
ZK/U (Center for Art and Urbanistics)
, screening, Berlin, de
2010 - 2011
WAVes (2012)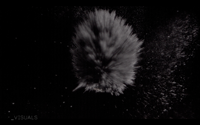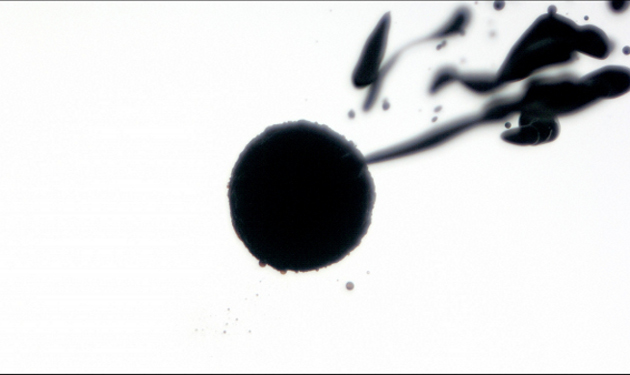 videos: 2'27'' & 1''46''

---------------------------------------------------------------------------
| a collaboration with Qvor Milanov and Yoana Buzova,	            
  Giovanny Conte - violin, Dmitri Yagodin - drums & percussions          
---------------------------------------------------------------------------
			
Video work based on common physical process - magnetizing where ferro fluid and iron sand are strongly attracted by a magnet. We ask different people (musicians and enthusiasts) to play, experiment on the source material, while watching it. The visuals play a role of a fictional dirigent, providing a field for sound improvisation/s. → video
Web_banner (2010)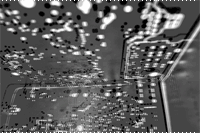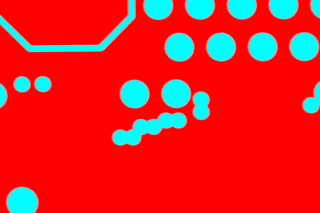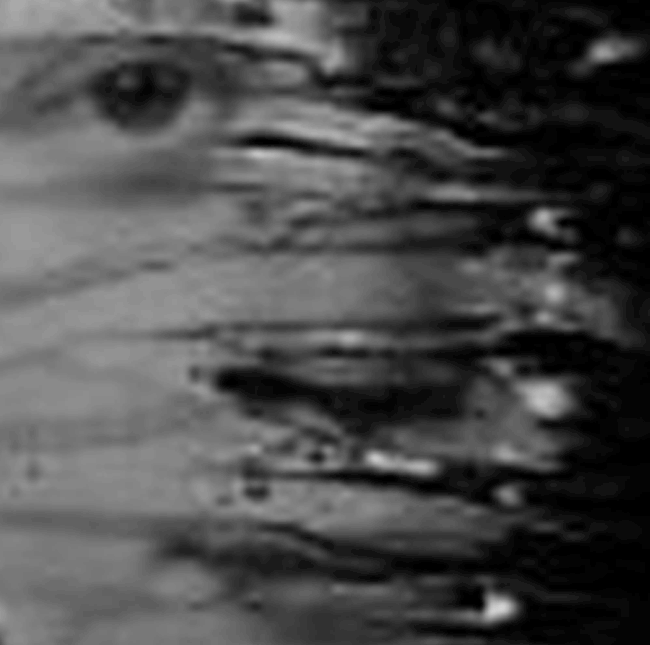 gifs
Web banners are the junk on the web; the Unwanted; Often classified as everything that is not asked for by the visitor. This visual research focuses on creating visual patterns, which aim to personalizing your own web banner. I used basic structure of Printed Circuit Board(PCB), which is primary used to connect electronic componets and it consists of unique visual code.
-------------
* gif Archive - an online exhibition & discussion →
ExAf foundation
The Fridge, Sofia & Kino Kosmos, Plovdiv, bg